Description
Get the leading-edge STEM, Common Core, fun fiction-based curriculum developed by teacher Tracy Tokunaga and Syd Blue for $49.99.
Would you like your students to engage easily in reading STEM material that combines literacy with science? With this curriculum, get kids excited about STEM! And satisfy your Common Core requirements!
Check out this new combo of action-packed novel with science extensions.
We have a novel that middle schoolers actually LOVE to read and teachers appreciate the easy discussion starters in science. In the backdrop of chasing drones, attack helicopters and fighter jets, the gripping, nonstop adventure captivates even the most reticent student. All types love this book.
Tracy Tokunaga developed the course because her students didn't want to stop reading Circle, and the intro to petroleum, climate, chemistry, physics, genetic engineering, aviation, astronomy and Earth-sciences fascinated them. Several classes have finished the curriculum and as a result, many have rocketed into a STEM path. The fun projects created with a Common Core basis will even intrigue you. See what students are saying about Circle below. (STEM = Science, Technology, Engineering & Math)
In Circle, 14-year-old Spencer discovers an extra-terrestrial girl hiding out, living in his house. Mandy is lost and alone after her jet crashed and the pilot was captured. She asks Spencer to rescue the pilot from Edwards Air Force Base and help them get home with the one thing their civilization needs to survive. But once he finds out what they are after, his family falls into crisis. Can he still help her?
One of the BEST BOOKS I've EVER READ! J. Warren
My 11 year old daughter read the book in just a few days and said it was one of the BEST BOOKS she's EVER read! (She also loved all the Lord of the Rings books, as well as all the Series of Unfortunate Events).
WOW! Blew me away!!T. Devito
Reading Circle brought me back to my childhood! It was wonderful. I didn't want to put it down. Normally I'm very analytical and rational, but Syd brought me back to a world of possibility, idealism, and excitement! … (Read more on Amazon.com.)
T. Heany
This book is a lot of fun. It is aimed at the teen-age crowd without being puerile. It is action packed without being melodramatic. The book starts off with a very fast plot and grows more suspenseful as the book progresses. It's a great read.
14-year-old Austin S.'s Mom wrote that, "Austin declared Circle his favorite book of all time — even better than Twilight."
Check out the student reviews HERE.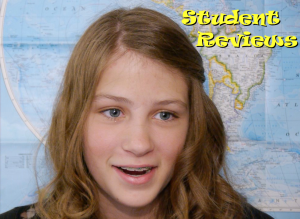 Don't worry — It's "clean" – G-rated.
For samples of the curriculum, contact us.