5 stars: One of the BEST BOOKS I've EVER READ! J. Warren
My 11 year old daughter read the book in just a few days and said it was one of the BEST BOOKS she's EVER read! (She also loved all the Lord of the Rings books, as well as all the Series of Unfortunate Events).
5 stars: Best Book Ever, Marjorie Perkins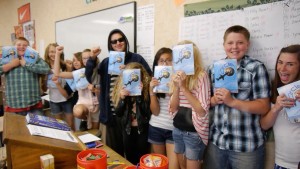 This was the best book I've ever read because it had a lot of details so that I could picture it in my mind. There was a lot of imagination and creativity. I loved it.
5 stars: I love this BOOK!!!!!! Diane Kubeja
My class read this book and I thought it was awesome. Every time my teacher said we have to stop reading my whole class would say NO. …
5 stars: WOW! Blew me away!! T. Devito
Reading Circle brought me back to my childhood! It was wonderful. I didn't want to put it down. Normally I'm very analytical and rational, but Syd brought me back to a world of possibility, idealism, and excitement! … (Read more on Amazon.com.)
14-year-old Austin's mom wrote, "Austin declared Circle his favorite book of all time — even better than Twilight."
5 stars: T. Heany     
This book is a lot of fun. It starts off with a very fast plot and grows more suspenseful as it progresses. It's a great read.
5 stars: What an adventure! You'll want to read this. Dixie madden
I loved this story and could not put the book down, what a great read! I am so excited to share this book with my nieces so they too can experience this wonderful story and I am hoping for a sequel…please, please, please!
5 stars: Fun book for all ages, Marianne Lins
After reading and thoroughly enjoying this book, I sent it to my friend's sons. Syd's writing is fun and easy to absorb keeping you glued to her books. You'll enjoy them too, no matter what age you are. 
5 stars: This book is AWESOME! Joshua
I totally LOVED this book! The writing was SUPER cool too, I loved the combination of the aliens and action with the science behind it. This book is also a great page turner, and being a 14 year old boy that's pretty important. 🙂 In conclusion, circle is a great read and I highly suggest it.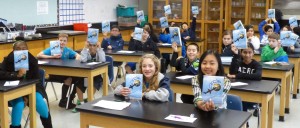 5 stars: I loved it! Tracy haro
This book was full of action! It was different from any other book I have read, I loved it!
Read more reviews on Amazon.com.
Reviews from the Students: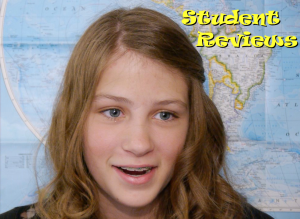 Reviews of the Curriculum: 
From ELA (reading) teacher at the Hesperia Unified School District:
I personally, think this book is fantastic and there are a lot of projects and interactive lessons that can come from the readings.  Now, when we are finished for the day the students moan and want to read more. The book inspired us to do a multi classroom project a couple weeks ago.  Groups of students created something that flew by using recyclable materials.  Each group had 5 min to create this flying object and take them outside to see how far they could fly (with the idea of getting the flying object back to Circle).  It was very interactive, hands on, and was a hit by many students.
Susi Payne, SPED teacher – :
Students have shown great enthusiasm towards the book itself and the curriculum. It has helped keep them engaged and eager to continue reading.
Teri, LAUSD – :
I'm halfway through the book…I know the kids will LOVE it so far!! I just downloaded the curriculum, and I can't wait. The theme in my class for the year is …Human Impact on the Environment for the 1st semester and Human Impact on Society and Relationships in the 2nd semester…so it totally fits in…CAN'T WAIT!!! I'm excited to read it and fit it in to my curriculum, Teri
Here are some direct messages I've received about FlyGirl. You can read reviews on Amazon too.
"I have read your book and it is truly amazing arhhh I could just read it again and again…"
"THANK YOU FOR WRITING FLYGIRL. I JUST GOT THE BOOK AND LOVE IT. THANK YOU YOURE TRULY GIFTED"
"Thank you once again for writing this book! Your new biggest fan!!"
"Hi I have read a quarter of the book all ready it is amazing thank you"
"Thank you again for writing this book! Your new biggest fan!! Kylie"