"Circle" and "FlyGirl" both made the top 1% of Amazon books. Here's a sampling of the reviews and kid videos
Circle the Book
Circle is an exciting STEM novel with intriguing real science in a sci-fi adventure, read in middle schools along with the aviation, earth science curriculum. Discovering a girl under his bed isn't the strangest thing happening to Spencer.
5 stars: One of the BEST BOOKS I've EVER READ! J. Warren
My 11 year old daughter read the book in just a few days and said it was one of the BEST BOOKS she's EVER read! (She also loved all the Lord of the Rings books, as well as all the Series of Unfortunate Events).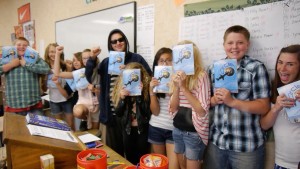 ***** Laugh, Learn, Explore and Enjoy! Amazing story with wonderful messages. M. Lins
I wouldn't be surprised if Syd got a Nobel peace prize for this book. If scientists could harness the ideas she suggests, the universe could become a better place.
***** Best Book Ever! Marjorie Perkins

This was the best book I've ever read … I loved it.
***** Adventure meets innovation. Craig Strong
Such a fun read. Bought it for my 12-year-old son, I read it before giving it to him. Loved it. Syd should file for intellectual property on her organic manufacturing innovations.
5 stars: I love this BOOK!!!!!! Diane Kubeja
My class read this book and I thought it was awesome. Every time my teacher said we have to stop reading my whole class would say NO. …
5 stars: WOW! Blew me away!! T. Devito
Reading Circle brought me back to my childhood! It was wonderful. I didn't want to put it down. Normally I'm very analytical and rational, but Syd brought me back to a world of possibility, idealism, and excitement! … (Read more on Amazon.com.)
14-year-old Austin's mom wrote, "Austin declared Circle his favorite book of all time — even better than Twilight."
5 stars: T. Heany
This book is a lot of fun. It starts off with a very fast plot and grows more suspenseful as it progresses. It's a great read.
5 stars: What an adventure! You'll want to read this. Dixie madden
I loved this story and could not put the book down, what a great read! I am so excited to share this book with my nieces so they too can experience this wonderful story and I am hoping for a sequel…please, please, please!
5 stars: Fun book for all ages, Marianne Lins
After reading and thoroughly enjoying this book, I sent it to my friend's sons. Syd's writing is fun and easy to absorb keeping you glued to her books. You'll enjoy them too, no matter what age you are.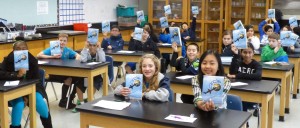 5 stars: This book is AWESOME! Joshua
I totally LOVED this book! The writing was SUPER cool too, I loved the combination of the aliens and action with the science behind it. This book is also a great page turner, and being a 14 year old boy that's pretty important. 🙂 In conclusion, circle is a great read and I highly suggest it.
5 stars: I loved it! Tracy haro
This book was full of action! It was different from any other book I have read, I loved it!
Read more reviews on Amazon.com.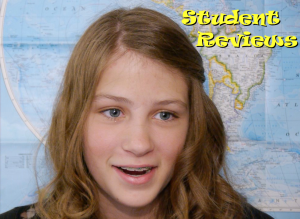 Reviews from the Students:
Reviews of the Curriculum:
From ELA (reading) teacher at the Hesperia Unified School District:
I personally, think this book is fantastic and there are a lot of projects and interactive lessons that can come from the readings.  Now, when we are finished for the day the students moan and want to read more. The book inspired us to do a multi classroom project a couple weeks ago.  It was very interactive, hands on, and was a hit by many students.
Susi Payne, SPED teacher:
Students have shown great enthusiasm towards the book itself and the curriculum. It has helped keep them engaged and eager to continue reading.
Teri, LAUSD:
I'm halfway through the book…I know the kids will LOVE it so far!! I just downloaded the curriculum, and I can't wait. The theme in my class for the year is …Human Impact on the Environment for the 1st semester and Human Impact on Society and Relationships in the 2nd semester…so it totally fits in…CAN'T WAIT!!! I'm excited to read it and fit it in to my curriculum, Teri
Clockworks Village:
What a sweet little book! It didn't seem like *my* type of story, but I teach 7th grade Language Arts, and next quarter we are hosting "STEAM Wars" (STEAM = Science,Technology, Engineering, Arts, and Mathematics). I decided to finally sit down and read Circle to see if it might connect with the STEAM curriculum. And BOY DOES IT EVER. I was really impressed how Syd's knowledge of aircrafts, genetics, and environmental issues shined through in the progression of a fun adventure story.
My favorite part of the novel is the character, Mandy (full name Mandala), the visiting alien. She is adorable. Being the only child on planet Circle, she wears her heart on her sleeve and instantly trusts everyone. Her everyday greeting of "Hi, I love you" made me giggle every single time, not to mention her other nuances, like throwing the dishes out in the backyard, or saying things like "I like this planet, I haven't been murdered once!" I also loved reading about the planet Circle. It was intriguing to imagine a planet that biodegrades organic items super-fast, and the challenges of living in such a place. I also enjoyed imagining the inhabitants of Circle eating from disposable bone plates, and wearing fingernail-shoes. Syd does a great job of conceptualizing an extraordinary planet without falling back on cliches.
Oh, and the very last line of chapter 31 made me sob like a baby.
FlyGirl the Book
What does it take to fly a plane? Guts. FlyGirl Jill has plenty of courage but she forgets about one thing. And when she finds herself in absolute terror at ten thousand feet, she knows there's only one way out…
"This is one gutsy heroine… FlyGirl is witty, briskly-paced and full of wisdom." –Lorraine
"FlyGirl soars! Roller-coaster adventure lets up only long enough for us to fall in love with impulsive and quick-witted Jill. … I WAS up in the air with Jill, tense…" –TS
"The book is a real page-turner! I initially sat down to skim the first few pages and found myself engrossed! HOOKED!" –Rosey
"This book has a great sense of humor (actually laughed out loud) and had me on the edge of my seat…" –Missy
"FlyGirl is an amazing book! So good I couldn't put it down!" –Melissa
"FlyGirl takes you on a wild ride and demonstrates that persistence in chasing your dreams pays off." –Lisa
"Makes me want to learn to fly…" –MariAnne
"The heroine's specific dream –to become a pilot– is still a non-traditional career for women … My heart was pounding after the 1st 50 pages, and there's plenty of suspense and humor…" –Vanessa
"A well-written work with romance, danger and going for the dream against the odds." –Stephanie
"Fly Girl is exciting, playful and action packed." –Mary
Here are some direct messages I've received about FlyGirl:
"I have read your book and it is truly amazing arhhh I could just read it again and again…"
"THANK YOU FOR WRITING FLYGIRL. I JUST GOT THE BOOK AND LOVE IT. THANK YOU YOURE TRULY GIFTED"
"Thank you once again for writing this book! Your new biggest fan!!" –Kylie
"Hi I have read a quarter of the book all ready it is amazing thank you"
"Circle" is at Amazon or Barnes and Noble.