A Disney movie gave me a renewed appreciation for my brother. I had the pleasure of seeing the movie "Planes 2: Fire & Rescue" preview on aviation press day. It was fantastic! The tagline is so precious and makes me a little teary: "When others fly out, heroes fly in." It's especially touching because that's what my brother does.
Aerial firefighting is one of the most dangerous types of flying there is, and my brother does it to save lives, homes and the forest. Kudos to Disney for taking on this subject and treating it so respectfully. They got it.
It really is amazing that my brother and other pilots fly into fires. Some reasons this type of flying is so dangerous is the smoke obscures the terrain, the fire creates a microclimate that causes different weather inside the smoky area like crazy downdrafts, the dynamics of "water bombing" and launched burning embers. My brother has seen a huge log shooting up like a missile. With 5,600 wildland fires in California a year, he is an air tanker captain fighting them from, mostly, the S-2T. Disney captured this incredible world of everyday heroes, mixing the drama of the subject with the humor of the characters – just like in real life. Go to any Air Attack base and you'll see what I mean.
Disney even got it right with how air attack approaches and tackles the fire. They put years into the research, and it shows. The writers, producers, director, special effects artists and animators turned to aerial firefighters and flight supervisors to work out flying patterns and altitudes, aerodynamics, fire containment and all sorts of grown-up aspects to give the movie authenticity. The battalion chief that my brother works with was an important source of knowledge as was the legend Chuck Aaron, who is the only pilot licensed to perform aerobatics in a helicopter in the United States. The detail in the helicopter rescue scene was spot-on. Based on many true stories such as the Yellowstone fires of '88, the world of talking planes and vehicles is infused with reality, and they found so many clever ways to put in the accuracies. Everyone likes a good pun and this movie is chock full, going full throttle. Mixture rich.
The hysterical humor comes from rich characters and cute applications of the aviation and fire engine metaphors. MayDay, the firetruck based on the 1943 Fordson Tender, cracked me up. I know too many old fellers who want to talk about their bodily problems no matter how embarrassing. The scene at "Honkers," the honky-tonk bar for cars and planes, is definitely enjoyable for the whole family, especially the grown-ups when the planes are sipping on oil and doing the two-step. I won't spoil the jokes. Very entertaining.
For pilots or firefighters, the flying references and action are delightful. It's amazing a pilot didn't write the script. One of the writers, Roberts "Bobs" Gannaway, said they strived for "deeper storytelling." The way they went deeper with "Planes 2: Fire & Rescue" is by telling a story of second chances and how we can find ourselves faced with the task of reinventing our purpose in life, often borne from failure. Have you ever had something not work out? Something you thought you really wanted, only to find out later it was a good thing you didn't get it. Something better became an opportunity because one door closed. Sometimes when the door you were fixated on is no longer an option, out of desperation you open up to something great that was there all along. Dusty Crophopper evolves to have an eye-opening experience and follows a path that no longer seeks his personal glory as a race winner, but unlocks to a larger objective. It's just like in life. Often we serve our egos until we have fed enough and can turn to serving the world as we look for "what more." What more is there that I can do as a person (plane) with a heart-breaking problem? Anyone who has discovered how to provide a heart-warming solution knows this joy. In psychology, it's called self-actualization. It's one step up on Maslow's hierarchy of needs.
When talking about the filmmaking process during the press preview, Doug Little, CG Supervisor, said, "A lot of progress was based more on failure than success." Henry Ford agrees with his famous quote, "Failure is only the opportunity to begin again more intelligently." I know this is something kids need to hear. It seems like a new concept when I speak to them about tenacity. Building them up with stories of overcoming obstacles helps champion the trait. "Planes: Fire & Rescue" has more depth than just a cartoon.
One of the things that was so amazing about the animation was how real the trees, smoke and fire looked. Incredible special effects. The fire scenes keep you on the edge of your seat, while the quieter scenes provide nonstop entertainment. There was a lot of laughter in the screening room. Disney has doused us with a delightful diversion again. It's in league with "Frozen."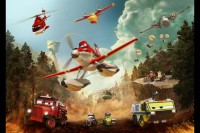 From the emails I get from kids who watch my channel (YouTube.com/FlyGirlFlyGirl), I know they are very enthusiastic about flying. They write me, "I want to fly so bad. Tell me how." Some say every little boy dreams about becoming a firefighter, but with Disney's Planes 2, both boys and girls can envision both mastering the sky and suppressing fires. Thanks Disney for not being sexist. As Chief Pilot of an aviation company, that busts my gaskets. And from the feedback from the girls I speak to at my book signings, girls love flying too. Who doesn't love soaring through the air with a bird's eye view? That's what's nice about movies – even those who are the most scared of heights can experience the perspective from above, and in this case, into Piston Peak National Park.
When I made a joke on FB that I was going to check the authenticity of the movie at the preview, a respondent said, well, first, there's the talking planes. I told him, "But I do listen to my engines talk every time I go flying." They speak volumes and I better listen – they'll certainly let me know when they're unhappy even from just a subtle change in their roar. Yes, fortunately, this animated movie has more interesting dialogue than that.
As an adult seeing this movie with other journalists and no children, I can say it holds its own. As producer Ferrell Barron says, "It's a classic injured-athlete story. I think we've all experienced some kind of loss at some point in our lives – an end of an era, a lost love, a failed career. We've all had to recalibrate. Dusty can't go back to being a cropduster, he left that behind. He has to move forward." With this movie, so does the genre.
It's forward-thinking movie-making, dedicated to those who risk their lives for others, heroes like my brother.