Inspirational Speaking–
I have motivational talks for all sorts of events and ages. I love helping others make a flight plan for their lives. Let's inspire more kids to take on a challenge — the journey is so empowering. I had no idea I'd end up a pilot. It wasn't even on my radar when I was a kid. The unusual route my life took surprised me. But there's 3 things everyone needs to take off and soar. I also think there's another meaning for STEM beside Science, Technology, Engineering and Math. Feel free to contact me for more info.
From baggage to controls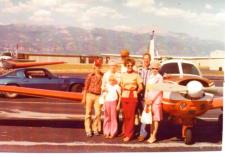 My family flew to grandma's house in this plane but they had more children than seats, so they put me in the baggage compartment. There was nothing to do back there so I started writing my 1st book at age 9. Books are not only the gateway to a broader world but also the difference between a great job or jail. Here's why I am passionate about promoting literacy:
More than 60% of employed proficient readers have jobs in management.*
2/3 of students who cannot read proficiently by the end of 4th grade will end up in jail or on welfare.*
More than 60 percent of all prison inmates are functionally illiterate.**
Wow, what a difference reading can make!


Busting out

Eventually, I worked my way up to the controls and rerouted my career, even though I enjoyed editing and writing at magazines, a book publisher, a news service and production companies.

Busting out of the baggage hold, I became a commercial pilot, owned an aerial surveillance corporation and flew over the enchanting terrain from California to Texas as Chief Pilot managing a fleet of planes and pilots. Fun! Recording my adventures for future use in stories, I took another journey simultaneously: developing my wordsmith and storytelling skills.

3 Simple Steps to Soar

As an English major, I had no idea I'd later take a STEM path. It wasn't even on my radar. (STEM= Science, Technology, Engineering and Math) But going STEM changed my life in incredible ways.

Now I want to inspire kids to take flight in their lives with my talk of "3 Simple Steps to Soar!"

Many reasons cause people of all ages to give up on their dreams. I want to share how I overcame the numerous obstacles and why it was worth it. There is hope! I was surprised by the challenges but even more astonished by the solutions.

If you'd like to book me to speak at your event, please contact me through the contact button.

Inspire STEM

If you'd like to inspire students to step up to the challenge of careers in STEM fields, I've got a motivational speech for you! After a talk at a college commencement, one girl came up to me afterwards and said she had been trying to get her boyfriend to become a pilot but after my speech, she's going to do it. Yes! Others said they felt encouraged to tackle the science, tech, engineering or math courses they had been contemplating.

(STEM= Science, Technology, Engineering and Math)
In my STEM speech "You Are at the Controls of Your Flight Plan," I present 3 great reasons to go into a STEM field, 3 myths that may keep us out of it and what I think STEM really stands for. Rich with ample flying experiences and metaphors, students feel empowered to try out their own wings. You may know that women in STEM fields make 33% more than other fields but women are often underrepresented in these fields, holding less than 25% of the jobs, despite the fact that women hold 60% of all bachelor's degrees and make up about half the workforce. There are specific reasons for this and ways to change the trend so that women can participate more in these awesome careers. STEMers are the creators of the world! (Engineering, biotech, etc.) Let's embolden more girls, especially, to go for it.
If you'd like me to present at your next event, I have various talks with different focuses for different age groups. For example, my talk for ages 15-22 is 28 minutes with Powerpoint slides. And a 30- to 60-minute workshop can be added on. In the workshop, we'll uncover your biggest dreams, expose how to evade your obstacles and make a flight plan for your life. Prepare to take off!Please email the dates, audience interest/ demographic and goals of your event through the contact form.

Pilots have another word for something "hard" — do you know what it is? "Challenge!" What's the difference? A challenge is an obstacle you can overcome. If you call something "hard," you don't know if you can do it. Well, why not? It may be something simple in your way. Can you guess what is the #1 question kids ask me when they find out I'm a pilot? (It's a clue to why they think they can't do something.)

Some of the Speeches Currently Available:

My Surprise STEM Slipstream – How the Journey Empowers and Why go STEM?

English Major Gone STEM Wild – What STEM really means

How to Make Your Dreams Come True (for kids)

How to Soar – Three things you need to achieve your dreams (all ages)

* National Assessment of Adult Literacy, U.S. Dept of Education

** NEA, The National Endowment of the Arts is a federal agency.