Fearless FlyGirl Emilie Christine was hooked on flying after her intro flight. With a love for learning, what a better way to challenge herself than the feat of mastering the skies? Now she knows the empowering feeling of being Pilot-In-Command as well as the joy of creating new pilots herself.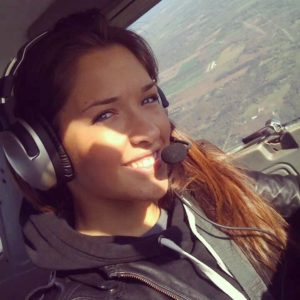 Tell me about your 1st solo.

I really didn't know what to expect. My instructor had generally hinted that my first solo would be coming up soon, but not that day specifically.  We had been practicing circuits and I felt that overall things were coming along nicely.  When we taxiied back towards the apron to park, my instructor told me, "OK, bye, have fun!" I responded "what do you mean?!" He replied, "go for your first solo circuit!!" The adrenaline instantly coursed through my veins and I knew what to do! I can't remember the full details as it was such a rush, but I know I loved every second of it!  It is truly an empowering feeling to handle an aircraft safely on your own!
What do you fly?
I was teaching on C172s and I just got upgraded to the F33A Bonanza.
Where do you live?
I live in Canada.
What's the best part of flying? Best part of what you do?
The best part of flying is the feeling of freedom.  The adventure of exploration.  The best part of what I do is teaching the future generation of pilots and inspiring young girls to become pilots as well!! I love teaching and the personal satisfaction I get when students succeed can't be beat!
What made you interested in becoming a pilot?
I became interested in becoming a pilot by chance after my father had mentioned the daughter of one of his clients was a pilot.  I was looking for a change in career and this planted an inspiring idea in my mind.  I always loved traveling and exploring new places, so I went for an intro flight in early 2010 and that was it. I was hooked after that!
You're such an inspiration and terrific role model. What do you think makes you so motivated to achieve so much?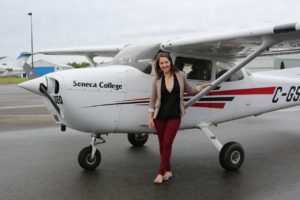 Thank you!!  I can attribute my motivation and aspiration to achieve greatness (not there yet!) from my parents who pushed me when I was young.  They encouraged me to choose whatever I'd like, but to strive for independence and success in my own terms. I am in love with learning and constantly want more, so exposing myself to new stimulus and challenging my brain comes naturally to me!
Do you have any advice you'd like to share with teen girls who are interested in flying?
Don't ever give up!! And don't worry about the time it may take to do something, as the time will pass anyway!  Keep believing in yourself, seek out a mentor to help guide you along the way and don't get intimidated by the possible obstacles. I know one concern I sometimes hear about is the math skills required to be a pilot. As someone who struggled with any kind of mental math, I can absolutely say that with practice, it gets much better!
What was the hardest part of your flight training?
I think the most challenging a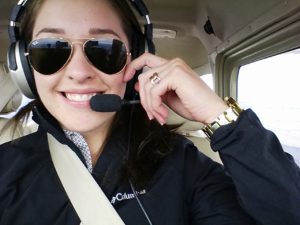 spect of flight training for me was juggling everything at once.  Because I already had post-secondary education, I chose a flight training school where I could fly and fit it to my own schedule. This also meant I was flying, working 2 different jobs to pay for the training, studying and still trying to maintain a gym and social life!!  This became even more challenging when I was working towards my Group 1 Instrument Rating as this part of flight training was something I struggled with.  I wanted to give up numerous times, but I knew the end results would eventually be worth it!
What does your family think of your flying?
My family was very supportive of my flying and are happy that I love my career!!  I've been able to take my whole family up flying and they all loved it! None of them are from the aviation background so that was a bit tough but they helped me through all the flight training I did!
What would be the ultimate trip, job, or experience for you?
 I honestly can't choose! I've loved all the different steps of my journey so far. I know it's cheesy, but because I love what I am doing, I think as long as I stay within the aviation industry, I'll be happy!  One thing that would be absolutely awesome though, is to be the Captain on a flight where my family are passengers!! I know I'd never forget that moment 🙂