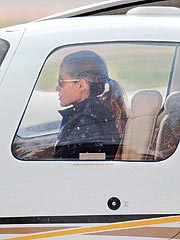 The most fascinating aspect of Angelina Jolie is she's a pilot. She went through all the training and hard work to become not just a private pilot but an instrument-rated pilot. Only half of pilots subject themselves to learning this advanced skill.
The reason she did it is even more amazing.
My reason was completely different: I became a pilot because I heard it changes you – it lifts your self-esteem. It's an amazing feat to master the sky and even more to handle the coming-back-down part. Landing is a challenge.
But Angie did it all to be able to fly herself around third-world countries to get into difficult areas. What an amazing heart she has! She had to put herself through the same requirements as all the other student pilots in order to achieve the certificate – something 80% fail to do. A majority of student pilots never make it to the day they become a full-fledged pilot. What kept Angie going through the rough parts is her love for helping others. Many interviews center on her other reason to became a pilot: to impress her son Maddox. What a cool mom! In an interview with Ellen Degeneres, Angie says learning to fly was the hardest thing she's ever done. All us pilots know what she's talking about.
When I discovered Angelina Jolie was a pilot, she became my hero. Getting an instrument rating makes a pilot safer, able to fly on less-than-sunny days, and frankly, saves lives. Yet only 50% of pilots accomplish this, and Angie did it for starving children in Africa. Wow!
Angie trained at many of the same airports in SoCal that I did. (The locals are still talking about it.) I know what kind of time commitment it takes and that's why I'm saying we should salute her for the effort she put into it for such a noble cause, which has hardly ever even been mentioned.
After I became a FlyGirl, I wrote a book about a tenacious 16-year-old girl who learns to fly by the seat of her pants and in the process becomes Pilot-in-Command of her life.  If it weren't assumptive, I'd dedicate the book FlyGirl to Angie for:
having the courage and strength to take to the sky,
being an inspiration of not just aptitude but also attitude and kindness,
showing girls, especially, what they are capable of if they open their hearts to unlimited possibilities and to themselves.
Thank you, Angie, for flying so high and going full throttle in life.
var _gaq = _gaq || []; _gaq.push(['_setAccount', 'UA-36908044-1']); _gaq.push(['_setDomainName', 'sydblue.com']); _gaq.push(['_trackPageview']);
(function() { var ga = document.createElement('script'); ga.type = 'text/javascript'; ga.async = true; ga.src = ('https:' == document.location.protocol ? 'https://ssl' : 'http://www') + '.google-analytics.com/ga.js'; var s = document.getElementsByTagName('script')[0]; s.parentNode.insertBefore(ga, s); })();