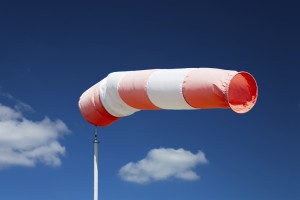 From reading accident reports, I'd say people don't know how to use the rudder. Lots of accidents occur from loss of control on the runway. It's an important time to be alert and not let the wind push you around.
When you're in moderate or severe turbulence, training manuals tell you to leave a little leeway, instead of making abrupt changes to correct what the wind is doing to you. But this is not the way to react on the runway. You need to be full-force in command.
In the sky, turbulence feels like a crazy roller-coaster ride – like being on a bucking bronco on steroids or in a washing machine on the super un-gentle cycle. Because of my job, I've had to fly in severe turbulence. Once, the seatbelt left a bruise on my hip – the result of a jarring jolt. My teeth are still intact but I wouldn't recommend flying a little bird in that kind of weather — unless you find it fun, as some do.
For landing in crazy winds, there are techniques that I won't go into here because I'm not a flight instructor. (Find yourself a good one.) But AOPA Epilot says, "Stay alert! Pilots not ready to handle wind gusts frequently get into trouble. How frequently? Here's a rough measure: Using the word gust as a search term of National Transportation Safety Board accident summaries produced 3,013 'hits.' "
When I read the scene in FlyGirl when Jill's stuck in scary turbulence, I understand how she feels when she finally gets out of it. Ariel Tweto had her solo flight in front of cameras for the show Flying Wild Alaska. When a crosswind came up and made landing difficult, she was scared. But since she had sufficient training, she was able to wrestle her way onto the runway, no problem. For some, it still warrants relief in the form of kissing the ground when you hop out of the little bitty tousled plane — unless you are one of the many pilots who likes playing in the wind, exhilarated by your maneuvers. Is it fun or frightening to you?
In the novel FlyGirl, Jill gets to kiss more than the ground when she lands after her first solo. Someone special is waiting for her. Is that how you hope your solo day will be? On mine, local musician pilots were playing a rhapsody in the lobby. Walking in and hearing the heavenly melody, I was on top of the world. My sweetie had a surprise waiting for me. See blog "Sky Support." I want everyone who wants to fly to experience their own rendition of this rite of passage. It's really, really cool. Go take an introductory lesson at least. And please don't let the obstacles you face get in the way of your dreams. Sometimes you just need to stay alert…